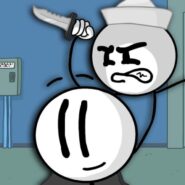 Some people just can't sit still. A quiet life is not for them, they quickly get bored. They are looking for any excuse to plunge headlong into a new adventure, and often get into trouble. And all because they can't imagine their existence without a fresh portion of adrenaline. Our hero named Henry loves to take risks. His story is a series of awkward situations in which he finds himself thanks to his own imprudence and recklessness. Fortunately, fate is favorable to him, and he always finds a way out of any fix. But in order to do this, he needs your help. You will control the character, deciding for him what to do next, and choosing the most appropriate option from those presented on the screen.
Depending on which one you choose, events in The Henry Stickmin Collection can take an unexpected turn. Everything can either end happily, or go to hell. But even if it seems that your choice helped you and a light loomed at the end of the tunnel, this impression can be deceiving. It often happens that a seemingly successful idea ultimately leads to disastrous consequences! But don't worry, even if your character dies, he will be fine. After all, you will simply be thrown to the last choice and by making a better one, you can fix everything!
The game has several alternative endings. And this is exactly what makes it so exciting: you can go through the same story many times and always find new opportunities in it. You can play The Henry Stickmin Collection endlessly and it will still bring you new positive emotions! After all, there is no possible way to know what will happen to the character this time. So regardless of whether you already passed this particular chapter or not, it will interesting for you to try all the options. Discover all the delights of this incredible game, play it online and do everything in your power to save Henry from another unfortunate turn of events!